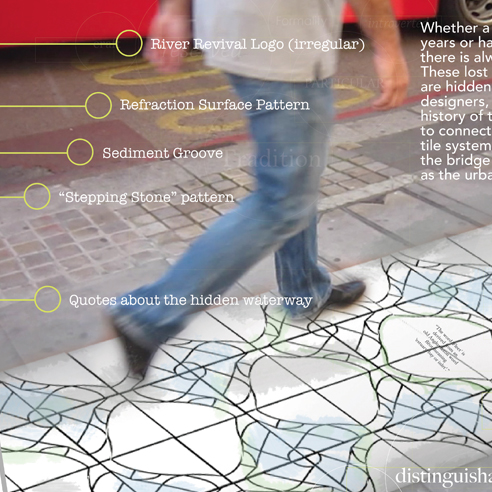 british culture through design
STEPPING STONE TILES FOR RIVER REVIVAL
The London Design Museum hosted their annual Design Factory Competition to allow designers to investigate the idea of "Britishness" and how to develop key cultural traits into a quintessentially British design.
The Stepping Stone Tiles are a system of tiles that would follow the path of the lost rivers of London. These tiles would be installed in existing pedestrian walkways where a lost river is beneath a person's feet. The design incorporates a unique aesthetic with a stepping stone pattern that mimic the reflectivity of water that allow water and moss to grow between the grooves to bring a natural yet curious feature to the design.
features
- Award: Design Factory Competition Finalist
- Design Research of the Barber and Osgerby Exhibit
- Product design analysis of British design
- Final Design: Stepping stone tiles with natural aesthetic that incorporate historical anecdotes to celebrate the little-known history of the lost waterway.